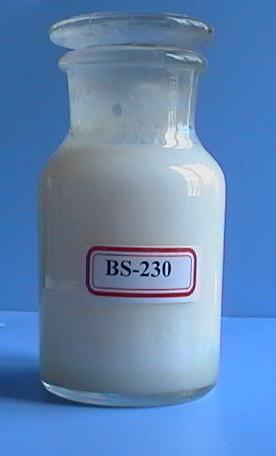 Ⅰ. Specification
Appearance: colorless or white opalescent liquid
Active ingredient: modified amino silicone, 20%
Ionicity: non-ionic
pH: 5.5-6.5
Compatibility: excellent compatibility with other agents
Solubility: very soluble in hot and cold water
Ⅱ. Characteristics
* More evenly distributed amino groups in the molecules, which allow better smoothness and reduced yellowing.
* High stability, low tack, suitable for one-bath or pad-bath process.
Ⅲ. Use
Suitable for all fabrics, particularly cotton, wool and their blends.
Recommended process:
* Pad-bath method: two-bath two-pad (10-30g/L,pH=5.0-6.0,pickup rate 70-80%,below 45°C) - drying (100-110°C) - baking.
* Bath method: bathing 15-20min (0.5%-3% O.W.F,bath ratio 1: 5-15,below 45°C,pH3.0-7.0) - dewatering - dring (100°C)
Note: We recommend user determine the suitability of the product on different fabrics according to preliminary tests.