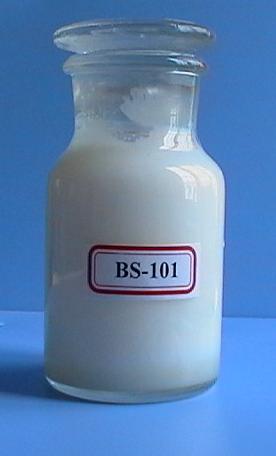 Ⅰ. Specification
Appearance: cream white paste
Total solid: 40±2%
Viscosity:20-50Pa.s
pH: 6-7
Ⅱ. Characteristics
• Low temperature color fixation. No baking required.
• Easy to prepare color paste. No crosslinking agent required. Stock paste is stable within 15 days.
• Excellent printability. Soft hand feel.
• Can be used in combination with Acrapon A, BS-201, PET thickeners.
Ⅲ. Use

• Suitable for screen, squeegee and spray printing.
• Compatible with black and white pigments.
• Suitable for cotton, T/C, acrylic, polyester, silk, knit and terry fabrics.

Ⅵ. Example: (flat-bed screen printing)
1. Acrapon A as thickener
Formulation: (parts)
| | | | |
| --- | --- | --- | --- |
| | Light or medium colored | Dark colored | White |
| Pigment | 3-5 | 6-9 | 10-25 |
| BS-101 | 25 | 30 | 35-40 |
| Urea | 5 | 5 | 5 |
| Acrapon A | X | X | X |
| Total | 100 | 100 | 100 |
Process: printing, drying (105°C, 3-5min)
2. BS-201 as thickener (parts)
| | | | |
| --- | --- | --- | --- |
| | Light or medium colored | Dark colored | White |
| Pigment | 3-5 | 6-9 | 10-25 |
| BS-101 | 25 | 30 | 35-40 |
| Urea | 5 | 5 | 5 |
| Acrapon A | 1-2 | 1-2 | 1-2 |
| Total | 100 | 100 | 100 |